Exposure to the sun's ultraviolet rays is just about the worst thing for your skin (besides smoking). The sun's ultraviolet (UV) rays are essentially radiation that's penetrating your skin, right down to the deeper layers. Not only can this mess with your DNA (your genetic mapping that determines how your cells should act)—which can trigger mutations and even skin cancer—it also depletes collagen and elastin in the skin. These are the skin-firming proteins that make skin look more youthful looking. (It's when collagen and elastin get depleted that skin starts to sag and lose its youthful fullness.) The sun's UV rays also cause hyperpigmentation (age spots and freckles), rough skin, fine lines and wrinkles, and more.
While not going out in the skin ever is probably the best thing for your skin, it's just about impossible to do that—particularly if you've got kids in swim lessons (outdoors) and in other various activities (like me) that necessitates being out in the sun. I love running, biking, kayaking, swimming, and walking outdoors, which means a lot of UV rays.
I don't use chemical sunscreens on my skin or on my kids' skin. There are just too many questions about the chemicals being absorbed into the skin and showing up in urine. It begs the question: what could those harmful chemicals be doing to your body, or to a child's body, over time? I don't believe in taking chances with my, or my kids', health.

Valerie Latona
What I Use on My Skin—And My Kids' Skin
I've tried a lot of chemical-free sunscreens. I make it a point to buy and try. I don't like the physical sunblocks that leave a white cake-y residue on the skin. This is just not attractive and no one wants to look like they're slathered in sunscreen (particularly my kids).
When I discovered Beauty Counter sunscreens, I was hooked. My kids love them too.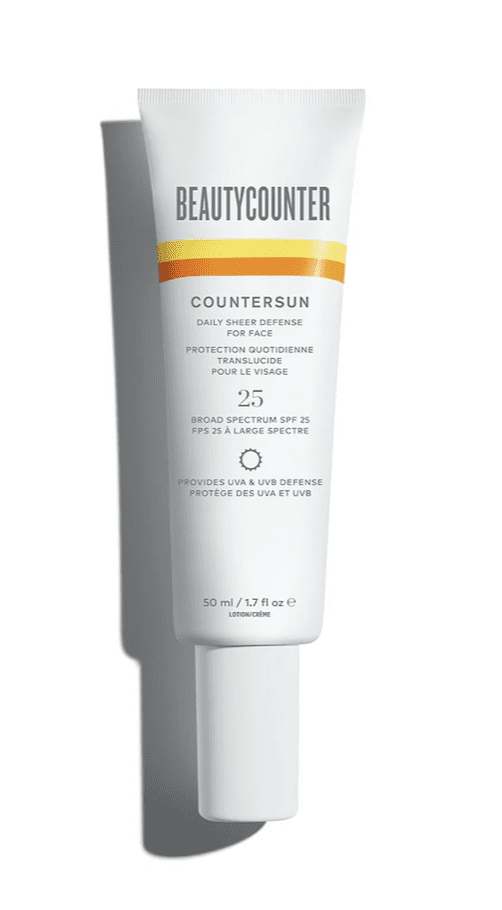 I LOVE the Beauty Counter Countersun Daily Sheer Defense for Face — SPF 25 ($46). I wear it every morning after cleansing and applying a vitamin C serum. (More on vitamin C later.) It goes on sheer, it's not greasy, it feels like you have nothing on your skin. I put it on in the morning so I don't forget to wear sunscreen. When people tell me they don't wear sunscreen, I'm like "What?" Sunscreen is probably the most important product you should be using on your skin … every single day.
Sun exposure, including the sun exposure we get every day, is what causes premature aging of the skin (think: fine lines, wrinkles, mottled skin tone, rough texture, and that little bit of sagging you see appearing on skin as you get older).
The other Beauty Counter sunscreens are top notch too: they have a Countersun Mineral Sunscreen Mist SPF 30 ($39) that's a favorite with my kids. You spray it on, rub it in, and then you don't see it on the skin. Ditto for the Countersun Mineral Sunscreen Lotion SPF 30 ($27). The Countersun Mineral Sunscreen Stick SPF 30 ($23) is perfect for applying (and re-applying) to the nose and cheeks during the summer months when you're at the pool or the beach. It stays put while swimming and exercising. (Full disclosure: because I loved these products so much and spent so much money on this one brand over the years, I signed up to be a Beauty Counter consultant. If you want to try these products, go to Beauty Counter and select me (if you want!), Valerie Latona, as your consultant.)