A Delicious, Super Healthy Snack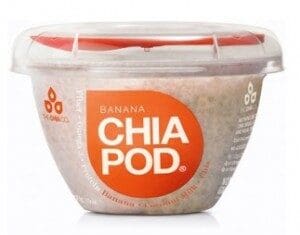 Banana Chia Pods: This convenient snack only contains three! ingredients (which follows my simple, healthy eating philosophy): chia seeds, coconut milk, and real bananas.
The banana definitely tastes fresh…and there are no added sugars! Plus, one container contains 259 milligrams of potassium-a mineral key for so many things like regulating blood pressure and keeping your kidneys healthy.
These snacks are also rich in fiber and omega-3s (of course, because chias are chockfull of omega-3 fatty acids). Take a look at the ingredient label, below. Bottom line: definitely try these yummy treats-particularly as a substitute for more sugary snacks. (You can buy a 12-pack for $40, about $3 a snack, at thechiaco.com.au; just be sure to click the US flag at the bottom of the page…otherwise, you'll be ordering from Australia!) The only downside: they use a lot of plastic for this one snack (plastic top, plastic spoon included, and plastic cup); while I do recycle plastic, I want to find a way to re-use these snack pods to make buying these worthwhile. (I think they'd make a great on-the-go snack container for kids on long car rides!) And while I'm not a fan of plastic at all, glass chia pod containers are never going to happen unless I make my own banana chia pudding…stay tuned!